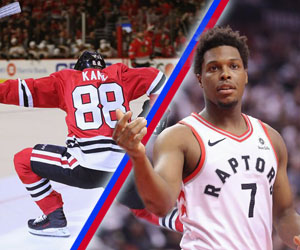 The playoffs are here for the NBA and NHL, making this one of the most exciting times to make money on sports betting with TheBestPerHead.com. Postseason action has a built-in audience and a ravenous betting market that is quick to bet on almost every game and chase after action – win or lose.
If you're new to TheBestPerHead.com or shopping for a pay-per-head provider, here are a few reasons why we're the premier PPH shop in the industry when it comes to booking and banking on playoff action in the NBA and NHL:
Ultimate odds
With more than a century of combined oddsmaking experience on our team, there's not too much the NBA and NHL tournaments can throw at us that we haven't handled before.
Our oddsmaking team sets the bar in the PPH industry, using multiple styles of line making: from old school Vegas veterans, to market/money analyst, to advanced computer model predictive analysis. We take the best from all those worlds and present our clients with the sharpest odds on the board.
At this point into the basketball and hockey seasons, our team has a solid grasp on the playoff contenders and pretenders. But we also recognize that so do the bettors. There's not too much that gets by the betting markets these days.
With that in mind, we're constantly monitoring the betting trends across all major sports betting markets: Nevada, offshore, Europe, and Asia. If a syndicate is slamming the side, we know before it even moves the odds and can adjust your numbers to protect against any steam plays picked up by your players.
Risk management
At this time of the year, bookmakers have to not only take into account the daily action to balance their liabilities but they must also consider where they stand in the futures market as each round of the postseason plays out.
Our risk management professionals have your money on their minds – constantly – and are always reacting to your action (big or small) and predicting patterns across the industry to put you in the best position to come out on top of almost every bet.
And, as the postseason dwindles down, and futures liabilities start to rear their ugly head, they have the experience, business savvy, and complex risk management formulas to offset those possible losses using the odds for the remaining series and games to eliminate even the most modest loss.
Variety and offerings
Postseason games come with such a stage that bettors always want to wager more. That's why TheBestPerHead.com gives it to them. Outside of standard sides and totals, NBA and NHL fans will find quarter/period sides and totals, as well as alternative spreads/pucklines and totals on our menus.
That's not all. Team and player props have become such a huge part of the betting handle that we have a dedicated oddsmaking teams to strictly booking prop odds and action.
Most pay-per-head providers either won't offer those prop markets or will keep them reserved to big games, like the finals. However, we meet that demand with a terrific product that your clients are going to want to get down on each and every night – from the opening round to the championship series.
Live in-game betting
The postseason was made for in-game wagering. And with so many big games on the board each and every night, players will love to jump in during the middle of the action or will look to hedge or middle their original wagers with some in-game bets.
Our in-running odds engine is among the most advanced live betting systems in the PPH industry, factoring in score, time, possession, player and team production, as well as instantly cross referencing that live data with past performances and team trends to give you the best in-game offerings in the industry.
The clock is ticking before the puck drops on the NHL playoffs and the ball is tipped for the NBA postseason – one of the best times to be part of the TheBestPerHead.com team. For more information on how we can make you playoff profits, contact us in the links provided.
–