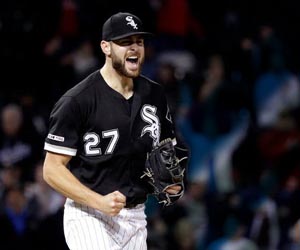 Making money with your Pay per head bookie over the long MLB season is impossible without finding a few diamonds in the rough. And when it comes to the baseball odds, often the best bets come from unexpected places.
Here are some of the most profitable pitchers in the big leagues, when it comes to their teams' returns on the MLB moneylines in 2019:
Lucas Giolito, Chicago White Sox: +9.6 units
The White Sox 6'6 right hander is the top money pitcher in the majors, thanks in large part to Chicago being a steady underdog on the daily MLB betting boards. Giolito is performing well, with a 2.87 ERA and helping the ChiSox post an 11-4 record when he takes the mound. He's been very strong at home, owning a 6-1 mark and 2.73 ERA in front of the Southside fans, but has wobbled a bit at end June with two poor starts on the road. Giolito has been tinkering with his mechanics and with the club coming back home this weekend, he should find his form before July.
Brandon Woodruff, Milwaukee Brewers: +9.1 units
Woodruff is coming off perhaps his strongest outing of the season, going seven innings while allowing only three runs on seven hits with 12 strikeouts. The Brewers' right hander boasts a 4.01 ERA and has only seven quality starts on the year, but Milwaukee is giving him an average of 6.5 runs of support per start – second highest in the National League. That said, four of those seven quality starts have come in each of his last four outings, so he's getting better at a time when most pitchers suffer a bit of a decline.
Andrew Cashner, Baltimore Orioles: +8.9 units
Baltimore isn't known for its betting profits but Cashner has made the most of those friendly moneyline odds. The Orioles are just 9-6 in his 15 starts in 2019, but have been priced as a +200 or higher in many of those appearances. He has a 4.37 ERA on the season and has recently battled blisters on this pitching hand, all the while being at the center of trade talks. These early 2019 efforts are a massive turnaround from his 2018 numbers, finishing with a 5.29 ERA and a 4-15 record that burned through -8.3 units on the season.
Jake Odorizzi, Minnesota Twins: +7.6 units
Odorizzi is in the American League Cy Young conversation after his strong first half to the year. He's got a 2.58 ERA, pinpoint command, and has helped the Twins to an 11-4 record in his 15 trips to the mound. The righty has been sensational at Target Field, with a 6-0 mark and 1.91 ERA – all the while getting 5.53 runs of support from Minnsota's bats. That said, books have been very quick to catch up to Odorizzi's stellar work, and his recent starts have seen the Twins priced in the -200 range. One loss at those pricey moneylines and his season earning will quickly shrink.
–