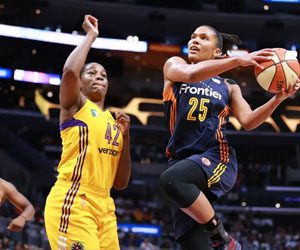 The playoffs are almost over, and with the end of those tournaments on the horizon so are the dog days of summer. The stretch between June and September can be an arduous one for sports books and bettors, but as a pay-per-head provider this is no time to let your guard down.
Sure, the daily handle isn't as great, with baseball making up a good chunk of that action. But there are some outliner sports that can bring in a ton of hold – if you know how to promote them and management them properly. However, these "other" sports are crawling with sharp and sophisticated bettors looking to attack any weak lines or slow movement.
If you're already a valued agent of TheBestPerHead.com, you know our experienced team doesn't discount any sport – no matter the amount of action it brings in. Money wagered on a NFL game is treated just as seriously as action on a WNBA tilt.
Here's how TheBestPerHead.com is making money for you with these outliner sports during the dog days of summer:
WNBA
OK, stop snickering. Women's hoops may not bring out the biggest bets but this is one market that has been a breeding ground for wiseguys ever since the inception of the WNBA way back in 1997.
Bettors willing to dedicate the time to researching and even watching WNBA games give themselves a huge advantage over most books, who simply run the numbers through the power ratings and don't give it a second or third glance to the lines, like they would NBA odds.
Even bettors just chasing the steam moves across the industry can make good returns by betting the WNBA line moves. That's why TheBestPerHead.com is not only monitoring our agents' individual action but also betting trends, steam moves, and sharp play across the entire industry. We're quick to react and adjust your numbers well before your clients can back you into a corner.
CFL
The Canadian Football League has served a football-starved market for countless summers, and kicks off on June 14 this season – an earlier start compared to usual CFL campaigns. The CFL is a tough market to book in the early workings of the season. Unlike the NFL, the results of the previous year just don't hold the same amount of water and it does take a few weeks to get a good grasp on the nine-team league.
Thanks to that small roster of teams, our oddsmakers have drum-tight power ratings once the season data is collected, but before those steady spreads and totals come into shape, we suggest keeping an eye on your clients' bet limits for CFL action in the first three weeks of the regular season.
Another reason why TheBestPerHead.com is the smartest choice for you pay-per-head provider: we're sports fans too. And our expert team actually has more than a few CFL fans, that keep a closer eye on the action and monitor any betting trends or breaking news that could influence a decision. So feel confident offering three-down football to your pigskin-craving client base.
MLS
The World Cup will steal most of the soccer betting spotlight this summer, but before and after the tournament, Major League Soccer will be the top option for footy fans at the sportsbook. This league, while not on par with its European contemporaries is getting better every season and that has resulted in a growing handle across the industry.
You may not know a lot about booking soccer or the MLS as a league, but our team does. Our oddsmaking squad and risk management department has a number of industry experts who cut their teeth in the aggressive European and Asian soccer markets, doing constant battle with some of the biggest bettors on the planet. So anything your MLS action can throw at us, we can handle.
For more information on TheBestPerHead.com and how we can earn you some cold hard cash during the sizzle summer months, contact our friendly and knowledgeable customer service department.