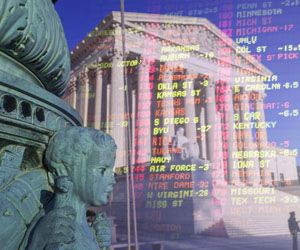 "Rising tides lift all boats". Keep that mind as the United States starts to roll out legalized sports betting over the next year or two.
The Supreme Court recently ruled in favor of New Jersey, in the state's fight to offer legal sports betting at its race tracks and casinos, and not only did SCOTUS rule in favor of the Garden State but it struck down PASPA – the Professional and Amateur Sports Protection Act of 1992 – which prohibited gambling on sports outside of Nevada and select grandfathered states. That means that other states, outside of New Jersey, can now seek to offer legal sports betting.
At first glance, this news might not look good for online sportsbooks and more so, pay-per-head bookies. With legal options coming down the pipe, you could see PPH books losing clients to those state-run sportsbooks, and – truthfully – that's a good possibility. However, there are a number of reasons why the nationwide legalization of sports betting will serve as a boon to the Pay-Per-Head industry.
If you're a PPH agent sweating the Supreme Court's ruling, here's why this will work in your favor:
Odds and offerings
Even before the SCOTUS gave the nod to legal sports betting, the professional leagues – who lobbied so heavily against New Jersey – were conceding a loss and trying to slide their way into legal wagering.
Leagues like the NBA and MLB proposed ridiculous "integrity fees", scraping a 1 percent rake off the total handle – not the total hold, which is a huge difference. And on top of what the pro leagues are asking for, state officials and programs are going to have their bowls out asking for money from the sport betting pot.
With so many mouths to feed, book operators aren't going to be able to make ends meet by offering a standard flat -110 juice on regular wagers. They will be forced to poison their product by hiking the standard vig to -120, -130 or even -140. And that's where they'll lose bettors.
Thanks to TheBestPerHead.com's competitive odds markets, our agents can undercut those greedy sportsbooks and offer their clients fair odds with good payouts. If anything, those over-juiced lines are going to be a PPH bookes' best advertising.
Can't beat credit
Another reason why legal sports betting won't put a dent in the pay-per-head bookie industry goes right down to the core: credit. Pay-Per-Head agents operate on credit, allowing their clients to play within a certain limit, and collect or payout every Tuesday like clockwork.
State-run sportsbooks are going to demand cash at the counter for every wager, and that doesn't sit well with many players. Our clients are used to operating on a credit system, and can even fund your pay-per-head account directly with their payments to TheBestPerHead.com.
Miles ahead
Legalized sports betting in the United States is going to be a slow and painful process for many states looking to offer it. New Jersey has a head start on the competition but it will also be some time before their operators can work around legal roadblocks to offer online and mobile wagering options.
The initial process of betting in these state-run casinos and tracks will be to physically go into a brick-and-mortar shop, hand over your cash, get your ticket, and then have to go back in to cash in your winnings. The sports betting community is one that demands convenience and instant action, especially since smart phones revolutionized the industry by putting a sportsbook in the palm of everyone's hand. Bettors will gravitate to the quick and easy online methods provided by TheBestPerHead.com.
On top of that, brick-and-mortar shops won't be able to offer the wide arrange of wagering options as our online sportsbooks, and definitely won't be able to impower their customers with markets like live in-game wagering – allowing them to get action down at any time during a game on sides, totals, and game props.
As the leader in the pay-per-head industry, TheBestPerHead.com was well aware of impending shift in the U.S. sports betting market. And, in all honestly, we welcome legalized sports betting. As you can see, rising tides do really lift all boats.
–