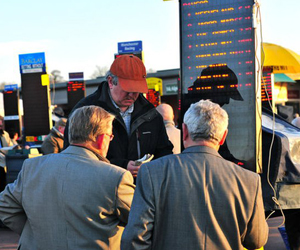 It's been a rough run for anyone in the sportsbook game the past six to eight months.
Regardless of if you're running your own shop, with help from TheBestPerHead.com, or one of the big-boy books in Las Vegas, you're feeling the pinch as we head into the summer.
The so-called "public" plays have been hitting at an increased rate since the football season, which saw constant action on the Patriots (13-3 ATS) and against the Browns (3-12-1 ATS) each and every Sunday. That rolled into bowl season, which was topped by Clemson killing bookies with their outright win over Alabama in the national title game – a very popular play among the casual bettors.
Then the NFL playoffs got underway, and what was already a brutal football season got even worse, with favorites dominating against the spread. The cherry on top of that crap sundae was New England's incredible comeback against Atlanta in the Super Bowl – an even worse result for those taking in-game live bets.
March Madness showed promise and gave bookies a bit of a breather before the NBA Playoffs started. And ever since the ball tipped on pro basketball's postseason, things have been more downhill than ever. The chalk and the Over have come in at annoying rates, and the public is all over teams like Cleveland and Golden State. Thankfully, they'll face each other in the finals. They can't both cover, right?
This costly skid is a bit of an anomaly for the industry. There are always ups and downs, but it seems the lack of parity in some sports leagues has taken much of the guess work out for bettors. But like all trends, it will come to an end and balance itself out.
The silver lining in all this mess: sharps are feeling the sting too. Wiseguys, who pride themselves on zigging when the public zags, haven't looked too smart by following a contrarian game plan. And while you may not take a lot of sharp action, these "informed clients" usually place bigger wagers than your average Joe. So depending on your clientele, you could be making up those losses to the public players thanks to wiseguys falling flat on their face.
Baseball season hasn't given bookies the best start either. Some big-name teams like the Yankees and Nationals have been cash cows on the diamond, and there's been a decisive lean toward the Over through the first two months of baseball action.
Don't sweat it though. Baseball season is a slower time and a perfect opportunity to revamp your approach to bookmaking and hit the reset button when it comes to costly slumps. Watch your pricing on public teams and don't be afraid to juice the Over when it comes to totals. That's what most public players want to wager on, you protect against that.
Respect the smart money on the MLB odds but don't fear it. You don't want to make knee-jerk reactions on a line move simply because a respected client has an opinion. Trust the numbers and the math behind them. We for pay per head bookies is committed to the best lines for its agents and maximizing hold percentage, and that adds up over the long run. And there's no longer run than the 162-game MLB campaign.
While it's been a long rough patch for bookmakers, take comfort in knowing the odds are in your favor. Just look at all those massive sportsbooks in Vegas, they didn't build those by giving away money every night. The house always wins, sometimes it just takes a little longer.